Neretva River Boatmen Association
After Opuzen's Milojko Glasović's idea and its realisation led to first two Ladja Marathons in 1998 and 1999, an initiative to form an umbrella organization which would unify all the boatmen's association from and outside the Neretva river valley and promote the preservation of the Neretvanian ladja through organizing the Ladja Marathon was born. The Neretva River Boatmen Association was founded in April 2000 in Ploče. Under the law, it acts as a citizens' association and is registered in the Register of association. The Association is a non-government, non-political and non-profit organization.
The goals behind founding the Association are preservation of the Neretvanian ladja, promotion of sporting and cultural activities, Neretva valley's tourism, as well as ecological work and protection of environment. All of Associations members are volunteers and they are helping keeping it going pro bono. The Neretva River Boatmen Association consists of fundamental rowers' association. Every association or crew that takes part in the Ladja Marathon on Neretva river is automatically considered a regular member and prolongs this status each year by competing in that year's Marathon. Any citizen of Croatia or any other country can become a regular member of the Association, given that they're interested in working in the Association, that they accept provisions of the Statute and that the Management board accepts their application. The highest governing body of the Association is its Assembly. It consists of one regular member per each fundamental association, delegated by their respective associations (Neretva River Boatmen Association members).
Pavo Jerković vas named Association's first president. He was succeeded by Neno Kovačević and Marko Marušić, who held the position up until April 2015. On the Assembly of 24th May 2015 Dalibor Obradović was elected new president and he was succeeded by Luka Oršulić at the Assembly held on 28th January 2020.
Late Ivo Šprlje, former prefect of the Dubrovnik-Neretva County and a great benefactor of this manifestation, served as a long-term president of the Organisation committee.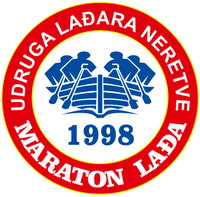 MCN: 01499355
PIN: 48309934764
The Ladja Marathon organizer:
Neretva River Boatmen Association
Co-organizers (sponsors):
Dubrovnik-Neretva County
Towns:
Metković, Opuzen and Ploče
Principal sponsor:
President of the Republic of Croatia
Association structure 2020 - 2022
Luka Oršulić
Association president
Luka Liković
Association secretary
Milojko Glasović
Management board member
Mišo Glavinić
Management board member
Hrvoje Lazarević
Association secretary
Nikica Družijanić
Management board member
Ivica Mijoč
Management board member
Marijo Rakić
Management board member
Božo Zadro
Supervisory-disciplinary board member
Ante Šprlje
Supervisory-disciplinary board member
Pavo Delija
Supervisory-disciplinary board member